A B C D E F G H I J K L M N O P Q R S T U V W X Y Z All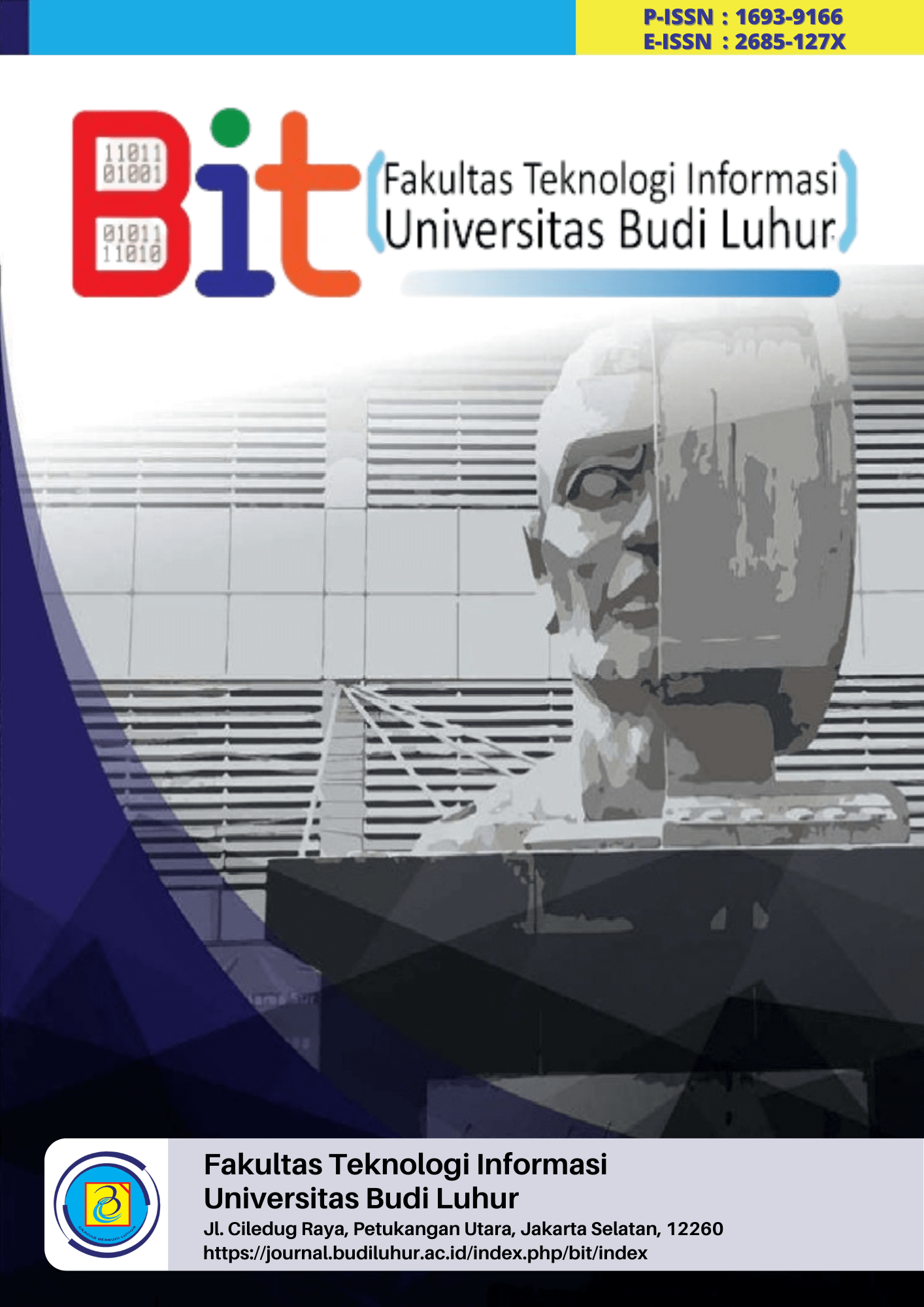 Bit (Fakultas Teknologi Informasi Universitas Budi Luhur)
p-ISSN: 1693 - 9166; e-ISSN: 2685-127X
Bit (Fakultas Teknologi Informasi Universitas Budi Luhur) merupakan Jurnal yang diterbitkan oleh Fakultas Teknologi Informasi, Universitas Budi Luhur dengan jadwal publikasi dua kali dalam satu tahun (April dan September). Bit (Fakultas Teknologi Informasi Universitas Budi Luhur) bertujuan sebagai media pertukaran informasi, pengetahuan mengenai pengembangan dan ilmu komputer serta keterkaitan dengan disiplin ilmu lainnya.
Fokus dan Ruang Lingkup pada BIT (Fakultas Teknologi Informasi Universitas Budi Luhur): System Engineering, Expert System, Decision Support System, Data Mining, Artificial Intelligence (AI), Computer Network, Computer Engineering, Image Processing, Genetic Algorithm, Information System, Business Intelligence dan Knowledge Management, Database System, Big Data, Enterprise Computing, Robotic, Internet of Things, Data Science, dan Topik studi lain yang relevan
Surat Keputusan Direktur Jenderal Pendidikan Tinggi, Riset, dan Teknologi - Kementerian Pendidikan, Kebudayaan, Riset, dan Teknologi Republik Indonesia Nomor. 225/E/KPT/2022 Tentang Peringkat Akreditasi Jurnal Ilmiah Periode III Tahun 2022. Jurnal Bit (Fakultas Teknologi Informasi Universitas Budi Luhur) dinyatakan Terakreditasi Sinta 6 (S6) mulai Volume 17 Nomor 2 Tahun 2020 sampai Volume 22 Nomor 1 Tahun 2025
View Journal | Current Issue | Register
Budi Luhur Journal of Strategic and Global Studies
Strategic Global Studies, published by International Relations Study Program, Faculty of Social and Political Science, Universitas Budi Luhur. Strategic Global Studies publish twice a year (June and December). In each edition, it received article that will be reviewed by internal and external editors. Afterwards, article reviewed by at least two reviewers, who had related expertise. Article will be reviewed with double-blind peer review.
Strategic Global Studies explores critical and constructive inquiries with emphasis on international studies, that include: International Politics, International Economy, Security, Diplomacy, Conflict, Humanitarian, Transnationalism, Development, Peace and War, Globalization, Foreign Policy, and any related issues.
View Journal | Current Issue | Register
1 - 2 of 2 Items